Welcome to my old cars page. This page consists of really old, semi old, and old cars.
Well lets start off with some of my favorites.
This is my baby it is a 1955 Chevy Bel Air.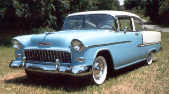 This car has a 265 small block w/ PG Tranny and numbers matching. (I cried when this car let the house, hey I was 7 and I helped my dad work on this car from the frame up.
---
This is another one of my dads Chevy's he bought this after he sold the 55.
This is a 1963 Chevy 409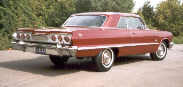 He only had this car for a little while until he bought the 56 Bel Air
---
This is another one on my baby's it just recently left the stable but it went to a good owner.
It is a 1956 Bel Air w/ a 265 power pack, PG Tranny, India Ivory paint, numbers matching.
---
Right after I was born my dad traded in his Rivera for a 1969 Chevrolet Corvette w/ a 350ci 350hp
A couple years after me he had a bunch of family cars you know the station wagon, Buick regal, but then we got some nicer family cars.
---
This is my sisters favorite car its a 1990 Cadillac Sedan Deville V8 hp?
---
After we sold this be had to get another Cadillac. So we got my high school pimp ride. It is a 1996 Cadillac Deville Concours. It has a 276 hp North star engine. Diamond Pearl paint, chrome wheels, BOSE stereo system (big bass) (the very first pimp ride)
I had to steal this car to go to school for a year until he let me drive it.
Yup that's right I drag raced this car too. It didn't do that hot but it was too big and not enough horses I did 15.6 in the quarter mile. All the guys at the drag strip said does your dad know you took this. UMMMM I'm still at church lol
---
This is my sisters car now my dad gave it to her for her wedding. Its the other pimp ride. NOTICE A TREND HERE. :)

This car is a 1994 Pontiac Bonneville SE
It has a 3800 series II engine w/ 200 hp and 225 lbs of torque.
---
This is another car that's in our stable now its a 1999 Pontiac Bonneville SLE w/ a 3800 Series II engine w/ 205hp and 235lbs of torque. Its basically loaded w/ 16"chrome wheels sunroof and GM ground effects package.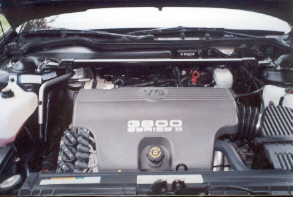 ---
There are more pics of my other sisters 1998 Saturn SL2 coming soon as well as more pics of my new favorite ride a 1999 Cadillac Eldorado ETC w/ 300hp and 295 lbs of torque.
CLICK HERE TO RETURN TO THE MAIN PAGE.